Latest News...
Introducing the Harvard Students from Wisconsin—Class of 2023
Congratulations and Welcome to Harvard College!
Here are the 16 Wisconsin students admitted to the Class of 2023. They comprise 3.7% of 348 applicants and hail from several different countries and cultures.

Suhaas Bhat, Marshfield HS
Active in national Ocean and Science Bowls, and an Eagle Scout.
HCW member interviewer: Parker Waller

Joanna Boyland, Eastbrook Academy - Milwaukee
A cellist, active in international mathematics camps and Latin scholar active in the Junior Classics League. Daughter of Joyce Tang Boyland '87.
Interviewer: Jan Gauthier

Aayush Karan, University School of Milwaukee
A mathematician and pianist.
HCW member interviewer: Jan Smokowicz

Kristin Kiley, Madison Edgewood
A chemistry lover who won a state crystal growing competition. Daughter of Liz King.
HCW member interviewer: Anuj Desai

Dija Manly, Madison LaFollette
Interest in biochemical engineering and social justice issues.
Interviewer: Matt Moeser
Hayoung & Haeun Moon, recently moved from Austin, Texas to Milwaukee
Brother, and sister respectively, they are both serious musicians.

Marcus Knoke, Middleton HS
A cellist, captain of the Mock Trial team, and leader of the Student Equity Coalition.
Interviewer: Rich Thal

Ezecukwa Nduka, LaCrosse Central
A talented cellist and singer.
Interviewer: Sterling Wight

Quincy Noakes, Golda Meir HS
Interest in biochemical engineering, and tutoring.
Interviewer: Len Leverson

Amma Otchere, Menomonee Falls HS
A poet who founded her school's debate team.
HCW member interviewer: Hillary Paskowitz

Paige Proctor, Junction City, Stevens Point HS
Studying genetics while raising cattle for national competitions.
Interviewer: Ben Rasmussen
Sergio Jara-Reynoso, Marquette University HS
A classical guitar player and mentors grade school students.
HCW member interviewer: Stuart Parsons

Erick Torres-Gonzalez, Ronald Reagan College Prep, Milwaukee
Senior Class President, long-distance runner, active in social justice organizations. Interested in pediatric neurology.
HCW member interviewer: Paul Secunda
Mirian Vargas, R.W. Reagan HS, Milwaukee
Student Council President.
Interviewer: Nic Kovac
ut
Nick Young, Eau Claire Memorial HS
YouTube video producer, musician (French horn), and an Osage Tribe dancer.
Interviewer: Dr. David Hirsch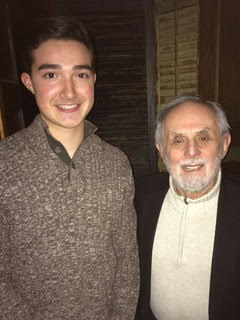 Global Networking Night - January 2019
On January 9th, local Harvard students, alumni, and their guests gathered at Cafe Hollander restaurants in both Madison and Milwaukee for Global Networking Night. This year's event in Madison brought together Nick Young, Harvard College class of 2023, and Harold Burstyn, Harvard College class of 1951. A 72-year difference in class years!
A Beautiful Day for the New Student Send-Off Picnic
On Sunday, August 12 new and current students, their families, Wisconsin alumni interviewers, and Harvard Club of Wisconsin board members gathered at Lapham Peak State Park. Eight of the ten newly admitted students were able to attend. The picnic provided a chance for them to meet each other as well as other members of the Wisconsin Harvard community. What a wonderful group of young people! We wish all a wonderful 1st-year experience!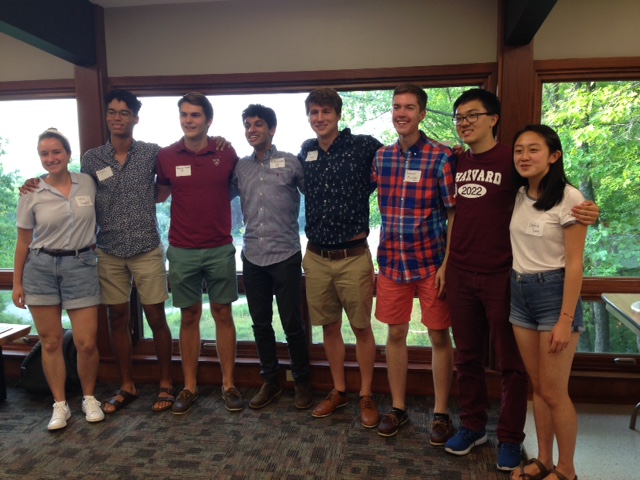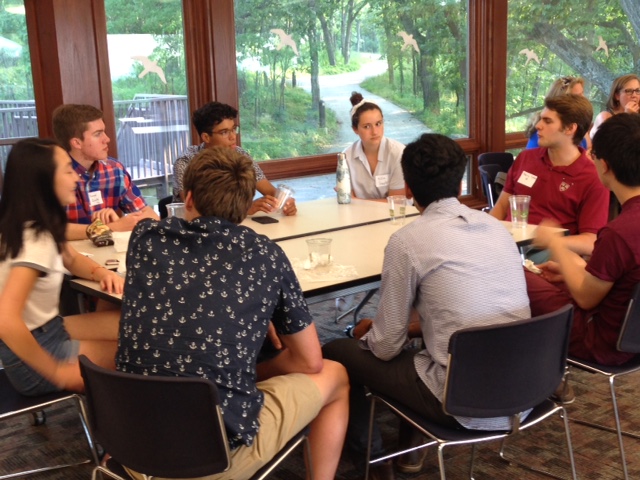 Hollywood Director Damien Chazelle coming to Madison!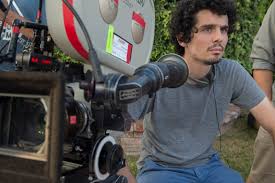 On February 23, 2018, the Cinematheque at UW-Madison will welcome movie director, screenwriter, producer, Damien Chazelle. He will present a rare 35mm print of the musical that earned him a Golden Globe and Academy Award for Best Director, 2016's La La Land. Learn more about Chazelle's visit and the film series here—http://cinema.wisc.edu/series/2018/spring/damien-chazelle-person
Chazelle studied filmmaking in the Visual and Environmental Studies department at Harvard University and graduated in 2007. He received several top honors for his musical La La Land, including a Golden Globe and Academy Award for Best Director, making Chazelle the youngest director to win both awards.
Cinematheque—4070 Vilas Hall, 821 University Ave, Madison
The Cinematheque represents UW-Madison academic departments and student film groups and is dedicated to showcasing the best in international cinema history and fine films. See more here: http://cinema.wisc.edu/about
---
Colson Whitehead '91 at

UWM

Student Union


Wednesday, January 31,

2018

at 7:00 pm
Boswell and the University of Wisconsin-Milwaukee Student Union, present an evening with Colson Whitehead '91, the Pulitzer-Prize-winning author of The Underground Railroad.
Tickets to the general public are $19 and include admission to the event, all taxes and ticket fees, and a signed paperback edition of The Underground Railroad. Tickets are available at whiteheadmke.brownpapertickets.com or you can order by phone at 800-838-3006.
About the author:
Colson Whitehead (Harvard '91) is also the author of The Noble Hustle, Zone One, Sag Harbor, The Intuitionist, John Henry Days, Apex Hides the Hurt, and The Colossus of New York. A recipient of the MacArthur and Guggenheim fellowships, he lives in New York City.
---
Ace Crime Scene Investigator from Madison, Dan Roman Retiring
Dan Roman graduated magna cum laude from Harvard in 1977, with a degree in romance language and literature. He came to Madison to continue his studies – with a focus on medieval Spanish literature but ended up with a career in the Police Department.

Read the full story from The Capital Times, Madison.